Introduction to AAM Protected Media Files add-on
Protected Files
About 2 min
---
In the dynamic world of online content management, safeguarding your digital assets is paramount. WordPress, one of the most popular website-building platforms, empowers millions of users to create and share their content. However, with great power comes the need for greater security. Enter the "AAM Protected Media Files," a powerful and free add-on for the Advanced Access Manager (AAM) plugin. In this article, we will delve into the functionalities and benefits of this essential tool for securing your WordPress media files.
Installation and setup
Before we dive into the details, it's important to note that to utilize the AAM Protected Media Files effectively, you must have both the AAMopen in new window plugin and the AAM Protected Media Filesopen in new window add-on installed and activated. You can easily obtain both of these from the official WordPress plugin repository for free. Once installed and properly configured, your journey towards fortifying your digital assets begins.
What does AAM Protected Media Files do?
At its core, AAM Protected Media Files specializes in protecting your physical files from unauthorized access. It operates with remarkable simplicity, leaving your files untouched. It neither encrypts them nor relocates them to obscure folders, preserving your website's structure and integrity. This means that if you ever decide to deactivate or uninstall the plugin, your website will remain fully functional, as it was before.
Key features and benefits
Simple configuration. AAM Protected Media Files requires a straightforward manual setup to configure your web server and protect access to specific folders (e.g. /wp-content/uploads directory).

Preserves file integrity. Importantly, this plugin does not alter your file locations, content, or URLs. Upon deactivation, everything reverts to its original state, ensuring your website continues to function seamlessly.

Wide compatibility. The plugin protects files of various types managed by the WordPress core. For a comprehensive list of supported extensions, refer to the official WordPress documentation for the wp_get_ext_typesopen in new window core function.

Granular Access Control. AAM Protected Media Files offers a multitude of options to manage access control for your media files. You can restrict access to individual files for visitors, specific users, or user roles. Moreover, with the premium Complete Package, you can define default access settings for all media files on your website.

Multiple Access Control Methods. The plugin provides at least two distinct ways to define access controls for your files, ensuring you can tailor your security strategy to your specific needs.
Managing access to media items
Managing direct access to your WordPress files through the AAM UI is flexible and user-friendly. There are two approaches you can take:
Manage access to media items. If you have added files to your website via the Media Library, you can individually manage access to each file. Simply select the "Edit" option for a media item, and if you have the Render Access Manager Metabox enabled (disabled by default), you can access the "Access Manager" metabox to set precise access controls.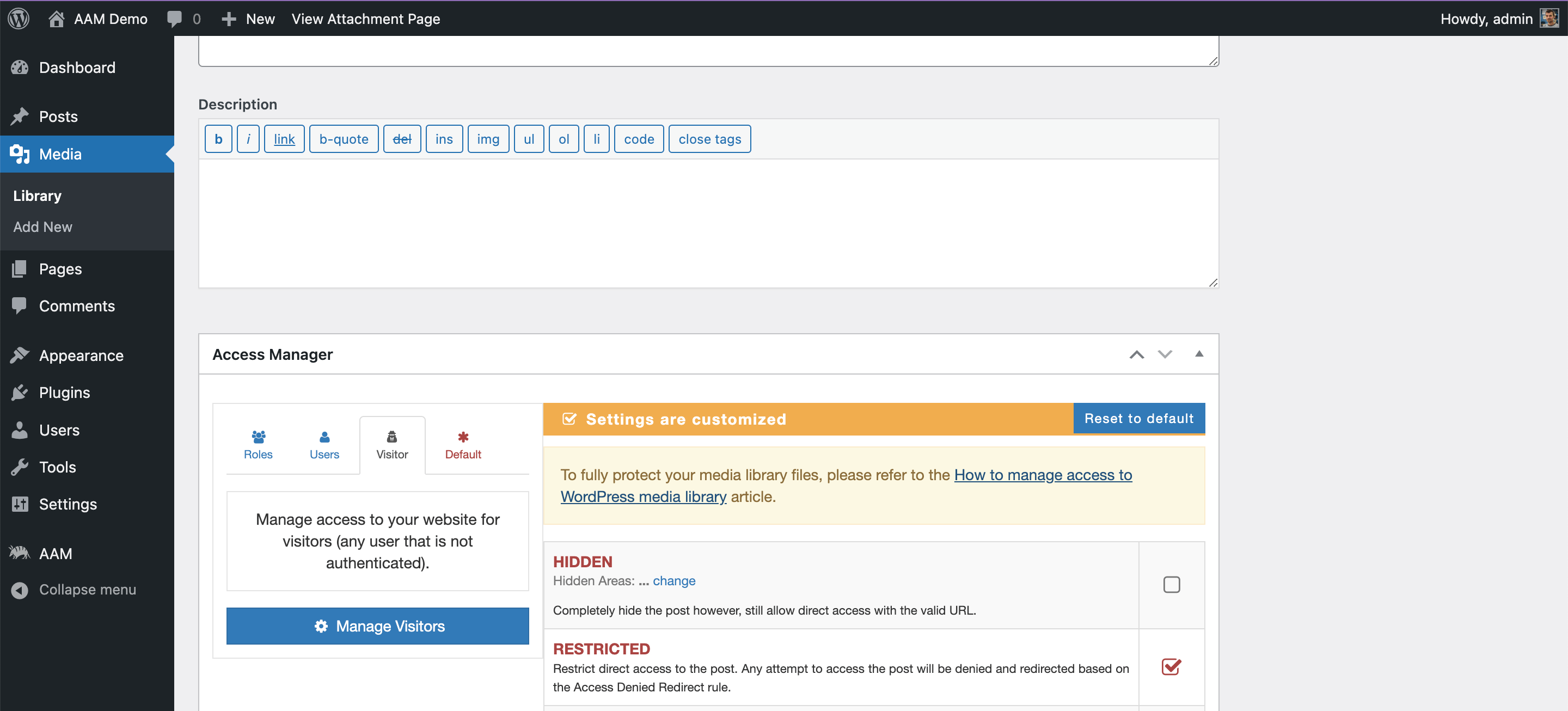 Alternatively, you can navigate to the AAM page, select the "Posts & Terms" tab, find the "Media" post type, and manage access controls accordingly.

Manage access to file URIs
For files that are not part of the Media Library, you can employ the "URL Access" service. Simply go to the AAM page, select the "URI Access" tab, create a new rule, and provide either the relative or absolute path to the file. Then, choose the "Deny Access" option.

Conclusion
The AAM Protected Media Files plugin, when coupled with the AAM plugin, offers robust protection for your WordPress media files. Whether you opt for "Posts & Terms" or "URI Access" to manage access, the choice depends on the organization of your files. As a general guideline, if your files are part of the Media Library, "Posts & Terms" is the way to go. For files residing outside this library, the "URI Access" service is your trusted companion.
In the ever-evolving digital landscape, safeguarding your content is non-negotiable. With AAM Protected Media Files, you can fortify your WordPress website's defenses and ensure your valuable media files remain secure from prying eyes.